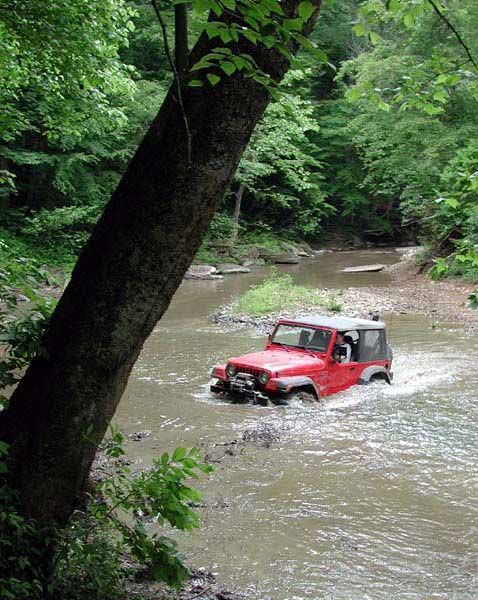 Lee fords a river near Jellico, Tennessee
Welcome
Welcome to the web site of Lee and Cec Murrah.
Lee is a retired intellectual property attorney, most recently serving as chief IP counsel for ArvinMeritor, Inc., an auto components supplier at Troy, Michigan near Detroit. He grew up on a farm near Lufkin, Texas and has degrees in electrical engineering and law from the University of Texas Austin.
Lee is a serial hobbyist who enjoys computers and web site programming, geocaching, genealogy, photography, ham radio, reading and historical research. Lee serves as a member of the Walker County Historical Commission; a board member of ICI, an independent living apartment complex for persons with mental health/mental retardation issues; and volunteer at the HEARTS Veterans Museum.
Cec Barton-Murrah is originally from Omaha, NE and is an award winning videographer. She has a degree in communications from the University of Nebraska at Omaha. Cec is a committed genealogist. She serves as President of the Board for the Huntsville Community Theatre and is a Master Gardener.
Both Cec and Lee enjoy traveling and camping in their motor home and four wheeling in their Jeep.
Lee and wife and Cec are retired and live in Riverside, TX on Lake Livingston.
Hobbies and Pastimes
Genealogy - both Lee and Cec are genealogists.
RVing - We travel and camp in our Tiffin Allegro RED (Class A diesel). Previously we have owned an Aliner trailer, a Chateau Four Winds (Class C) and an Itasca Suncruiser (Class A gas).
Four Wheeling (Jeeping) - We tow our Jeep behind our RV and drive the backroads
Ham Radio - Lee holds Extra Class license KV5M
Creating web sites